THE

Aircraft Circuit Breaker Lockout, Tagout System
For Ground Maintenance Safety!
"Your product will raise the safety awareness of the student when working on the various aircraft systems."
"I am really impressed with the kit… We try to instill an industry best practices mindset into our FAA Part 147 AMTS students, and your kit fits perfectly into what we hope to accomplish."
August 12th 2022 - The Kaneohe Bay Air Show features the U.S. Navy's Blue Angels, the U.S. Air Force's F-22 Raptor and F-16 Demonstration Teams, a C-17 Globemaster, and other professional performers. The Air Show showed off displays of vintage and modern aircraft, military ground displays, an exhibitor expo (SKYLOX), a car show, and more!
Safety in any industrial environment is always of the utmost concern. In aircraft maintenance, it is of special concern and is always taken seriously. In ...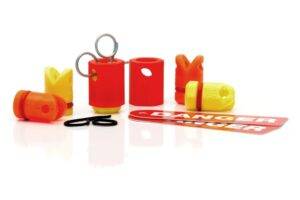 Skylox® is a unique product that will provide Lock out / Tag out safety to your aircraft service crews used during ground maintenance procedures. The circuit breaker safety lock is easy to use and is very durable, all at a very low price.
Important! Skylox® are designed for use by aircraft maintenance crews during ground service procedures and are NOT to be used in flight.
Skylox, LLC (CAGE code 5R8R0) can be an integral part of your aircraft / aerospace circuit breaker lockout/tagout procedures on electrical circuits, electrical panels in accordance with OSHA 29 CFR 1910.147 as well as AFOSH, NAVOSH and Federal Aviation Administration (FAA) EAPAS 25.1357, EAPAS 25.1360, FAA 14 CFR § 21.303.
SKYLOX® has been endorsed by NAVAIR and featured at the Joint Services Wiring Action Group (JSWAG) and Joint Services Fiber Optics Group (JFOWG) annual safety conference. SKYLOX® products are now approved for use and as part of the Joint Service General Wiring Maintenance Manual (NA 01-1A-505-1, T.O. TO 1-1A-14, TM 1-1500-323-24-1) US Naval Air Systems Command Lockout/Tagout Procedure WP 028 00 Page 8, 9 new paragraph 63. Part of manuals: NA 01-1A-505-2, T.O. TO 00-25-255-1, TM 1-1500-323-24-2, 1-1A-14-2, NA 01-1A-505-3, T.O. TO 00-25-255-2, TM 1-1500-323-24-3, 1-1A-14-3.
Our product line includes SKYLOX® collars, SKYVAULT® sleeves, SKYTAG® marking tags, labels, o-rings and SKYCLIP® clips. These circuit breaker lock-out tag-out devices are made to be used with Sensata Klixon, Texas Instruments breakers as well as Eaton Aerospace arc fault circuit interrupt (AFCI), arc fault circuit breaker, trip free, w/arc indicator circuit breakers once they have been disengaged. Breaker part number line MS14105, MS14153, MS14154, MS22073, MS24509, MS24510, MS25244, MS25361, MS26574, MS3320, MS58091 and arc fault circuit breaker line 4310-5001.